Here are a bunch of just miscellaneous items that really didn't fit into any of the other "The RV" categories I posted. My blog software told me you didn't want a gi-huge post with everything in it so I broke them up and will continue to update these as I add/change/delete things in Season 2 of the travel trailer saga. As in the other posts I've posted links in the titles and elsewhere to the items I show for "easy access" and shopping.
Command Strips
You just don't drill into aluminum - period! So I have used these and a variety of their hooks and hangers all over my trailer. I adore them and have used them to hang everything I have to hang in the trailer. I have clear hooks, holders for the phone and remote and on the back of anything needing hanging! I buy the replacement strips in bulk anymore and am not shy about using extras for heavy things. You get the idea! You can find a great variety on Amazon but also check your local hardware stores as often they have a better selection of items than the big box stores. They also now have wet/dry variations for the shower as well as some that hook up over the hanging item (which is what I now use for the window covering dowels after they all bounced off the plain hooks).
Binder Clips
It was my very smart brother that put me on to the binder clips and while I don't yet have a photo of them in action they are the best thing ever for attaching party lights and/or banners to your awning! The super large are also great for holding table clothes on picnic tables too! Click HERE for a great blog post with video on binder clip hacks!
Duct Tape & Zip Ties
What can I say - a MUST HAVE in ever RV for numerous reasons. I can tell you that back in the day when I was driving across Oregon in hurricane force winds that both were the only thing that kept me from completely losing my awning on my motorhome at the time!
I'm using this to secure the toaster oven in the cubby behind the sink and so far it is holding that and the toilet paper holder securely and we've been down some rough roads.
These came as a recommendation for something else from a friend of mine but once I used them I knew I wanted them for my extension cords and misc other things that I didn't want to zip tie permanently and would be outside where velcro often gets "gummed up". I have the extras in my toolbox - but warning, make sure when not in use they are either in the toolbox OR wrapped securely around part of whatever they secure. Have already lost a few!
Another of my brilliant weird ideas. I made two mesh bags to use for hauling sundry items back and forth to camp showers when needed but I wanted a place to hang them IN the shower so that anything wet or dripping would stay in there. I also thought they would be the best way of keeping shampoo and soap and such for the trailer shower IN the shower and not on the floor of the shower. That decided, I knew I had a tension rod (used for curtains) that would fit above the lip of the shower on the back side and I just needed something to allow me to hang the bags from that. These fit the bill perfectly and are easily removed. They will also allow me to hang wash rags or laundry bags back there too! I also have a few that are hanging on a rod above my counter to hold any variety of things. They work two directions.
The trailer has one of the normal pull out type steps. Great except I have little dogs that can't make the leap up that AND when I set up the expens out the door so they can go in and out, that step can't be pulled out as I need to have pens there to keep the little monsters from escaping. Note: This step did not hold up at all and I have since crafted a better way to secure the dog ramp to the existing trailer step and we use that.
Television Setup
This has multiple pieces and no I don't watch that much TV when on the road BUT....I like the option (especially if the weather is totally crap). It is also nice to have the option for guests that might come stay in the trailer when it is parked at home (you know they might get bored with my chitter chatter - shocking I know!).
Thanks again to my wonderful techie brother who mentioned that he wanted a second TV that he could use also as a computer monitor for his trailer when he works from there. I didn't need it for the latter but certainly a nice option to have and I wanted a small one. This TV fit all points - LED so it takes virtually no power, has DC power so with an adapter plug purchased from Radio Shack I am able to use both my DC and my AC to power it. AV inputs and outputs so I can plug in the portable DVD player (will show that later) and it is super light weight. It comes in a number of sizes but I only needed the 19". Has a great picture too!
As most of you know I don't have an abundance of wall space in my trailer mostly due to the size and that queen size lift bed that is in it. I knew I wanted to mount the TV on the shelving unit I installed so I had to go off in search of something that would mount to the bottom of one of the shelves and securely hold my TV while bouncing down the road. This is what I ended up with and it works great EXCEPT that all of the adjusting screws (which would allow me to raise and lower or swivel the TV are not normal phillips head screws AND there was at least one that they tell you to loosen to remove the plate and mount it on the TV that would not come out. Thereby my Amazon review on this puppy. I love the idea of the mount and I was able to make it work (a shop full of screws/bolts and parts/pieces) but I wouldn't recommend this brand again.
Since I have removed the wire shelving unit, I've gone to a straight wall mount for my TV and this has gone to the thrift store.
This of course isn't something I "had" to have but since the trailer is all set up to take cable or satellite or antenna I figured why the heck not have it. Again, it picks up about 6 stations from my house and sometimes it would be nice if I'm in a local campground to get some local news/weather. It isn't terrible big and does fit in one of my ottoman cube storage spaces. Note: Now that I have the computer (see below) loaded up with my DVD movies I actually rarely bring this antenna along - rather using the storage space for other things.
I still have this but am going to replace it with a King Antenna when and if I decide I even care to deal with an antenna. Honestly I watch the movies off my computer more than anything else anyway.
Antenna Mounting System
Again I wasn't going to drill in my aluminum sided trailer and this antenna needed to be portable and off the ground. A little extension coax and I found this super suction mounting system that I was able to rig up to the antenna and it just sucks right on to any spot on my trailer (and stays put). Hey a girl sometimes has to be creative!
This Ram Mount part is meant really for phone and notebooks in cars but fits perfectly around the middle section of the back of the antenna. The Ram Suction Base is then secured to that section using this Connector . That makes it movable and tilts as well. I know, call me the gadget queen!
HP Mini Stream Computer & Logitech Keyboard
Okay so this may seem like a luxury item however....I like to have options for rainy days or days I just want to hang around the camper and sometimes that involves watching TV. I know many people use their computers or ipads for movies and what not but I don't always want to bring that technology with me (my laptop is huge and the ipad is well, small to watch anything). Camping with my technology geek brother in 2015 he was doing the "hook laptop into TV" business in his trailer (he uses his TV also as his computer monitor) and was watching movies. I really wanted some kind of solution that I could use through the LED TV (same as his just smaller) I had. Off shopping we went with our out of the box ideas of possibilities. After running around town for quite a while and not finding anything that wouldn't break the budget and do JUST what I needed it for (don't need a complete computer)....we talked to a very informed computer geek guy at Staples. Telling him what I really wanted with some translation from my brother and he says "Hmmm sounds like you might be looking for something like THIS". Really not much more than a teeny computer box with many connection options - of which were appropriate ones to hook up to my TV and to an external hard drive. Runs a small version of Windows and we had already seen a handy dandy little wireless (cheap) keyboard that could also be used (one with a mouse pad in it so don't have yet something else to lose). It works perfect, doesn't take up much space the they keyboard and hard drive just get slid into a magazine holder I have mounted on the wall by the TV and shelves. Yes I need to have power to watch the movies but I'm okay with that AND bonus is that in the winter when I pull it out I just hook it into my TV at home and use it all year!
Here is a shot of how the TV and entertainment "center" looked for season 1. The TV mounted to the shelving unit and because they are wire I am able to mount the computer right under one of the shelves (part of why I like those soft crates). Then the external hard drive and keyboard go in that clear magazine holder on the wall to the left. This also shows how the table (below) is bungeed to the unit as well. The coil chord is actually my Endless Breeze fan (see below) cord (it is stored way up on the top shelf. Why you ask all this clutter in one spot? Because the bed still needs to be able to be lowered down so everything vertical has to have a specific spot. (Note: This has all been swapped out although it worked swell for the first 2 seasons).
I had a gigantic space heater I used in the motorhome but it was way too large and now is used in my garage/shop! After reading many reviews of this space heater I ordered one and am happy to report it does pretty well. It isn't going to be enough if it gets seriously cold for a long period but I do after all have a furnace on board I can use. It is small enough that it fits in my ottoman storage. I always pack fleece jammies for the naked dogs if it gets really cold and I can also bundle up if needed so I think this will be just fine! After 4+ years this heater finally pooped out. Have yet to decide on the best replacement so we will utilize the little space heater I had in the front compartment for now. Will probably replace with something that will fit in my drawer space though.
I have had this fan for over 10 years and it still is my favorite! It moves an incredible amount of air and is really pretty darned quiet. The only issue I have is that I only have ONE 12V outlet in the trailer and that is up in the ceiling above my shelving unit so I had to do some creative 12V extension cords to make it so I can use it. I HIGHLY recommend this fan and am planning to get a second in the near future.
In the realm of hot and cold - because I've always traveled with dogs I have to be very mindful of metal boxes (RVs) that heat up quickly. Let's be honest, RV window coverings are not known for function. While the trailer came with very fancy day/night shades I knew that would not cut the mustard (or the heat). Since I have some sewing skills (can usually do a straight line) and my lovely mother had made these for my big motorhome years ago, I decided to go back to using the Warm Windows brand backing and make better window coverings for the 3 windows in the living area (the tiny bathroom one isn't a big deal). Going with the color scheme of brights inside this trailer I also decided to be super brave and try my hand at quilting. Well not really but sewing squares together "quilt like", putting it on the backing and tying down the middle (you quilters know this as a "tied quilt").
The rods of course are just wooden dowels hanging on Command hangers and I just sewed in some tabs at the tops to hang them. Yes, sometimes the bounce off in transit but that isn't a big deal. You'd be shocked at the amount of heat these keep OUT and how nice and dark it is inside the trailer at night (or if you need a nap during the day!). I just fold them in half or quarters up from the bottom and have some clips I use to hold them up.
During season 3 I decided to remove the pleated shades that came with the trailer and were under these window coverings. They now lay nice and flat to the windows and I think do a better job that way. I also changed my decorating scheme so have made new "pillow cases" out of a new fabric and just covered these with them. Easy way to swap out window coverings and easy as well!
I had purchased and installed a clear plastic shoe storage bag in my bathroom before our first trip but found the location required taking off 2 rows of bags. Moving it over on the wall helped a ton and I like the all clear pockets so I know where things are and don't have to search through canvas ones. Note: After the first season I did find that I really didn't need the extra storage and was having issue keeping it up on the walls anyway with the bouncing around and if there were things in it. Rather just put up more hooks in the bathroom for some things and redid the storage cabinet in there to store others. Still a good solution though for storage if needed and you have the wall space.
After our first trip and months of packing "stuff" in the trailer I did find that there were a number of items that I needed better access too and that I wasn't happy having in a cupboard taking up that space. After having to rearrange the shelves on the shelving unit to accommodate an additional dog crate I had this little short spot up at the top that I didn't want to waste. I also had a basket full of cords, adapters and such for electronics as well as the portable DVD player and the radio/ipod player. I found these boxes that were just the right height and the larger one with dividers so I could separate out some of the cords and keep them in order. Pretty slick and used those same clips I used with the curtains above to use as "stoppers" just in case things shifted in transit. Note: I still use a couple of these but for the most part they have been moved into the craft cupboards in the house.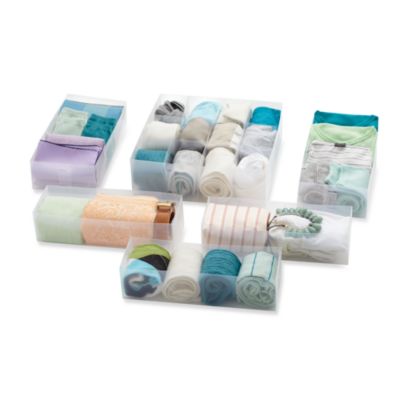 I keep talking about these shelves but haven't shown them to you. I love love love these shelves and knew when I got the trailer they would be perfect. I have a set in my kitchen that my Mom had ordered for me years ago so back to Uline I went and ordered the right size for the space I had. Always need to use that vertical space and I knew I needed to have some small dog crate spots. You order the closest height legs to what you need and they are very handily marked in inches so you can cut them to length with a hacksaw. The shelves then can also be ordered pretty close to whatever size you need. I knew the wall behind them was reinforced for a TV mount so I simply put in eye screws and zip tied the whole thing to the wall (although it is pretty darned tight to the ceiling too). So far it is riding well! After a number of "remodels" of the space and the loss of some of my pups and addition of others, this has also now been replaced and is currently employed in my garage at home! I still LOVE THESE SHELVES!
I am no longer using this unit but still have it because I'm not convinced it won't come back into play some day when I'm remodeling again. Besides it now does duty in my garage where I always need more shelf space. I instead now have the crates under a home made PVC structured table where I can easily put all 4 of them (note only 3 were used above).
New Version 4.0 remodel meant a shorter crating area so now they are all home-made and they will be sleeping doubled up.
I have had this chair for many many years and it has seen much use! I've shown dogs for more years than I care to admit and when this chair came upon the dog show scene I had to have one and am so glad I did. You can sit in this all day and it is comfortable, light and holds all of you "crap" (dog treats, poop bags, soda, judging schedules, course maps....). It goes to every show and now also on every trip. Well worth the money as I think I've had mine now for over 15 years of abuse use!
I had purchased two of these years ago and they had been bumping around my garage and house being used for craft stuff, tool stuff and what-nots. After cleaning this winter I had 2 that were empty and what a PERFECT storage unit on wheels for all of the RV tool stuff one has. It is perfect height, rolls and fits in the back of the trailer. Those of you with basement storage for such things - go look and see all you put there....I have none of that out of the way storage. This could also ride in the truck if needed although I'm sure Sterling would prefer it stay in the trailer. It can also be stowed under a table or trailer if needed and be cable locked so it doesn't "walk away". It is the exact height of my ottoman seating as well so can be used to sit on too! Note: Again, I found that I could downsize the amount of "tools and crap" I needed to have with me and no longer use this. However I found that my little Honda Generator actually fit in it so now it will be used to roll that around and in/out of the trailer (without the lid though).
I have one of these I've used for dog shows and hauling firewood and the like for years (the large version). Since I wanted to be able to stack and roll out of the back of the trailer all the outdoor things I immediately went back to this as an option for my camping. I use it to stack the expens, folding table, 2 chairs and BBQ. Strap them on and they can be quickly rolled in and out of the trailer in one swoop. If you want it can be used as a hand-cart and also adjusts length so you don't have unused cart space and if you want it can also be folded up to save space or stow when not in use (as you see below). Update: This is another item that no longer goes along. I'll use it at home but I wanted the floor space it took up and I could put the expens and chairs upright to give back the space this was taking up. Note: Again, more downsizing and reorganizing has allowed me to not have to take this cart HOWEVER I still use it (and its sibling which hauls firewood all winter) a great deal at home.
I had a couple different types of camping tables that I figured I could utilize in the trailer (and out) when needed. What I found is in general they were just too wide (most were 24") to put up in the narrow trailer to use for extra counter space or even a place to just set stuff or eat on when needed. Then at a dog show in September I saw these tables set up over the back of dog crates and knew they'd be the perfect size. They take up very little space, have 3 heights and are light weight. I really like having 2 of them to utilize as well. I use them every trip (or at least one of them). I rarely if ever hook them together but it is nice to have that option. After 4 years although I don't always carry this with me in the trailer, this set of tables is used a LOT both in and out of my home.
I actually now have 3 of the square and 2 rectangle ones of these and boy are they nice. Toy haulers have no furniture and while I could set up the lawn chairs inside, I wanted something smaller and that I could use for storage in the back. I also wanted them to be small and stackable or could configure into a couch setting or separate seating. You can find these anywhere but 4 of mine came from Big Lots here in town and one I found cheap at KMart. Note: These worked well but after building my benches the middle of season 1 and optimizing some storage in those, downsizing the amount of crap I haul too, found these really were not needed so now they are used in areas around my house and out on the front deck.
(P.S. that is the old gigantic space heater - not the one we use now).
I still use these in the house and out on my deck at home, the bench storage we have today in the trailer is actually a re-purposed wicker hamper I had. Just recovered the top of it and it is larger actually than the ottomans.
Benches & Storage Options
Reality is I have a toy hauler and general storage other than an ATV is problematic. It is built to haul your toys, not to really be as "RV-like" as I'm going to use it (although I can still put in my kayak or bike if needed). Still, where to put things like clothing, store the heater, dog stuff, etc. While the ottomans above worked okay, they are narrow and were really uncomfortable to sit on. That said it was a great way to be able to figure out WHERE we sat the most and the best arrangement. After a few camping trips I got my creative thinking cap on and decided I would build something that would give more storage, more comfortable seating and also still be movable. PVC to the rescue! I measured and designed a two piece bench and utilized a cheap quilt I had already, some foam, and lined the bottoms with some old curtains I'd gotten from the thrift store to cover as a bottom flounce. The tops are "hinged" (that metal strapping to the rescue again) to access the storage as well. Cloth and plastic bins inside the bench frames keep things contained. They are also a TON more comfy to sit on and you can actually sleep on them as well (if you are short). They fit snug but can be shifted up and back so that the dog expens and ramp ride behind them for travel. Below is season one with these - right after building them. So nice to be able to build to the exact size and measurements you want!
This is what I started with.
After a year + of traveling with the dogs and even sometimes, with company (they sleep up top on the lift bed and I sleep down on the benches), I did a remodel of sorts in the back. I removed the shelves that were housing the dog crates and built new additional benches. What I had discovered is that I wanted a longer bench to sleep on when needed and honestly, those darned dogs all want to be "up on the couch" and then I had to squeeze in a place to sit. While I still have the storage benches across the back (still movable) I made 2 additional ones and put the dog crates under them. I really didn't need more storage and that then freed up the space where the shelving unit was (see above). The shelves were not really giving me "storage" but were just a place for the dogs - this way I still have that space plus a bit extra floor space to do some changes for getting up on to the bed when there is company. Because I didn't have any extra of the original coverings I took the time and made all new covers and flounces for the benches and ordered the same quilt X2 so that I could flip it to the reverse to hang across the back. It also required raising up the two benches in the back a bit to make everything level so I did actually gain some storage space. I utilized the pillow shams that came with the quilts for extra pillows and seat backs. There are flounces on the front of the dog crate benches too - they are just flipped up so the dogs can access the crates. Those are all velcro'd on so that I can remove them and wash if needed.
I was so proud of those benches but after sleeping more hours on them I wanted a real mattress to sleep on so they have been replaced. With a PVC framed bed with a TON more storage under it, but replaced none the less.
Version 4.0 of my bed situation. The bed across the back just wasn't comfy for me because it was too short and sleeping corner to corner wasn't working either. So now I have a full length single bed that I raised the frame on and have storage under it. (PS I really liked this setup BUT I wanted to have more floor space - see the new setup below).
That did mean I needed to come up with a different more convenient arrangement for the pens and gate - off to the left you see what the answer was and the gutter is to keep the pens from ripping up the rubber flooring. This also frees up considerable floor space AND gets me back where I can load either my bike or kayak in here when I want to take them.
When school/college dorm stuff showed up in the stores I found these drawers that are the same depth as my bed is wide so that is my new storage for my clothes. The rest under the bed includes my outside table, Clam shelter, portable generator and two large totes that hold misc. other items.
Knowing there is never enough storage and wanting something at the head of the bed where I could stash my phone, glasses, ipad (if I'm reading), a water bottle, meds, etc. I found another college dorm option that was a 2 piece bed pocket system. One set for shoes and one for numerous other items. Also solves my never ending shoe battle I have going in my bathroom right now.
Version 5.0 (holy cow I cannot leave things alone)! In the Fall of 2019 I came up with another solution to my never ending quest for a more versatile bed setup and more flexible floor space. As you have read before part of the problem is that my trailer is not a full 72" wide so a normal length bed would not fit side to side. Also having something side to side and in the back (see the full bed situation) cancelled out being able to utilize the tailgate as I need (hauling expens in and out the side door, while do-able is not ideal). So okay, need to design and make something custom - which I did. Ta-da! I loved those full length drawers I had under the single bed and they jussssst fit between the tailgate and the bed rail so I built two benches to go "around" them to use as seating and removable section in the middle that turns it all into a bed. It also gave me a place to anchor my Lagun table mount which is now topped with a recycled wooden desk top (love the thrift store). The section in the middle can be removed and that portion of bed used as a back rest, while the table can be removed or swung to the side so I can still get items in and out of the back tailgate. The space in the middle also is where my wheeled cooler rides (stores all my dry food goods so the dogs cannot get into them - required as the cupboard where I used to store them now has a microwave in it). That cooler also can be used as a foot rest/lounge maker (it is about the height of the benches), dog bed (where Teddy likes to sleep) or out of the way. There were some tricky thing like sizes, outlets, and vents I had to deal with but I got it all worked out.
Upper Bed Storage
Another issue I had noticed is that when sleeping "up top" on the lift bed when I had it, was there really wasn't anyplace to put small things that I didn't want to leave up on the kitchen counter to have to fetch (getting off and on that bed can be kind of a pain - great exercise but not in the middle of the night). Things like glasses, a book, the remote, the phone (which I use as an alarm clock). So I made up a pocket organizer that I then attached with velcro to the top rail of the lift bed. Nothing fancy but it will keep those things off the bed but up in easy reach. Not the greatest picture but you get the idea. Note: With the new storage under the bed, I've moved the contents of this to under the bed in a drawer.
Improvised Drawers
The bottom cabinets in the kitchen are very deep but not terribly tall. I wanted to utilize the space but didn't want to be down on my belly trying to find things in those cabinets when needed and I USE the cabinets because honestly there aren't many in the trailer to utilize. So I got busy and put in some light weight drawers/trays. There is a tad of space in between them but since one has to be jockeyed around to avoid the stove gas line it worked out okay.
I also find that I use baskets in all of my cabinets to keep things from skittering around and in the upper cabinets to allow me easier access. This is an example and I can always use that middle space for something I don't often need (extra paper towels apparently). It also makes it a ton easier to pull things out for winter storage, that I don't want left to freeze. The best places I found to get a variety of sizes of these baskets here anyway is TJ Maxx - cheaper and they have a TON of them.
Since the trailer is indeed a true to life toy hauler the flooring is all aluminum (hey easy to clean-just hose it out) and I had Etrack installed in the event that I ever actually use it to haul anything that needs to be strapped down. That means cold floors for paws and feet and the etrack means high likelyhood of tearing up a dog nail! Since I'm using this more "RV like" and didn't want a permanent flooring solution, plus wanted SOME insulation - rubber flooring tiles to the rescue. You've all seen the child puzzle like flooring pieces and I could have gone that way but wanted something a bit more durable (dog nails) and a bit more classy. I LOVE my floor and was installed in a few hours with an xacto knife. Is it perfect - heck no but we are camping! Plus I ordered a few spares in case I ever need them. A great investment and note that when it gets super hot though, they can kind of lift/bow a bit in spots just from expansion of the rubber, but I'd use them again in a heartbeat. Super nice to walk on.
Below is the bare floor look and you can see above and in other photos the "after" version.